By JEREMY BRADLEY CBS NEWS April 23, 2018
Slow down. Talk. Listen. In a world of partisan politics and viral videos these concepts can feel like relics of a bygone era.
But something's happening in Vermont. In the hip art houses of Burlington, at serene coffee shops outside Montpelier and in cozy wooden theaters of rural Rutland, people are coming together to connect with one another, to look each other in the eye, to share laughs and tears and ideas. They're the storytellers of Vermont.
"We're sort of circling back to that tradition of sitting and listening to people and really hearing somebody else's perspective," says Susanne Schmidt.
Susanne Schmidt travels all across Vermont and the country to tells stories live on stage.
CBS NEWS
Fame isn't something most of these storytellers seek and certainly don't expect. But in her own regard, Susanne Schmidt is a famed storyteller of Vermont. She's a licensed mental health counselor by day and a storytelling virtuoso by night. She's also a regional producer for the ultra popular storytelling podcast, "The Moth," co-creator of a collaboration between comedic storytellers and non-profit organizations called Say It Forward, and a regular storyteller at events all across the state.
When Schmidt was showing CBS News around downtown Burlington, someone yelled out to her, "Hey, storyteller!" Something she says is not uncommon, calling the frequent, friendly, six degrees of separation encounters like this a "Vermont moment."
Storytelling shows come in all varieties, but the traditional format is often called a "storyslam," where people gather at a venue with their story prepared and rehearsed. Names are pulled from a hat, and the lucky few go on stage to tell a five to six-minute story. The stories are always told in first-person, citing their own life experience.
On a bitterly cold March evening, a lively crowd of some of Vermont's best storytellers gathered for a show held at Vermont Public Radio.
Susanne Schmidt closed the show with a touching recollection of her middle school chorus, confronting dark secrets with her grandmother and the value of family. See her story here
The diversity of perspective from the storytellers that night seemed to be a microcosm for its growing popularity. People are finding common ground in the shared experiences that come to life in storytelling shows all over Vermont, the country and the world. In a time when many feel divided and fractured, storytelling is helping them: Slow down. Talk. Listen.
"If I understand that that person that maybe didn't vote for the same person I voted for — or on the surface doesn't have the same values — once I know that person I can't discount them anymore. I can't pretend they don't exist," Susanne Schmidt says. "And so for me, in a live storytelling event we're connecting on a whole different level. And it's not me as a performer and you as an audience member. It's us as humans in the same place, having an experience that's going to bind us together."
© 2018 CBS Interactive Inc. All Rights Reserved.
By JANE LINDHOLM and SAM GALE ROSEN VERMONT PUBLIC RADIO March 19, 2019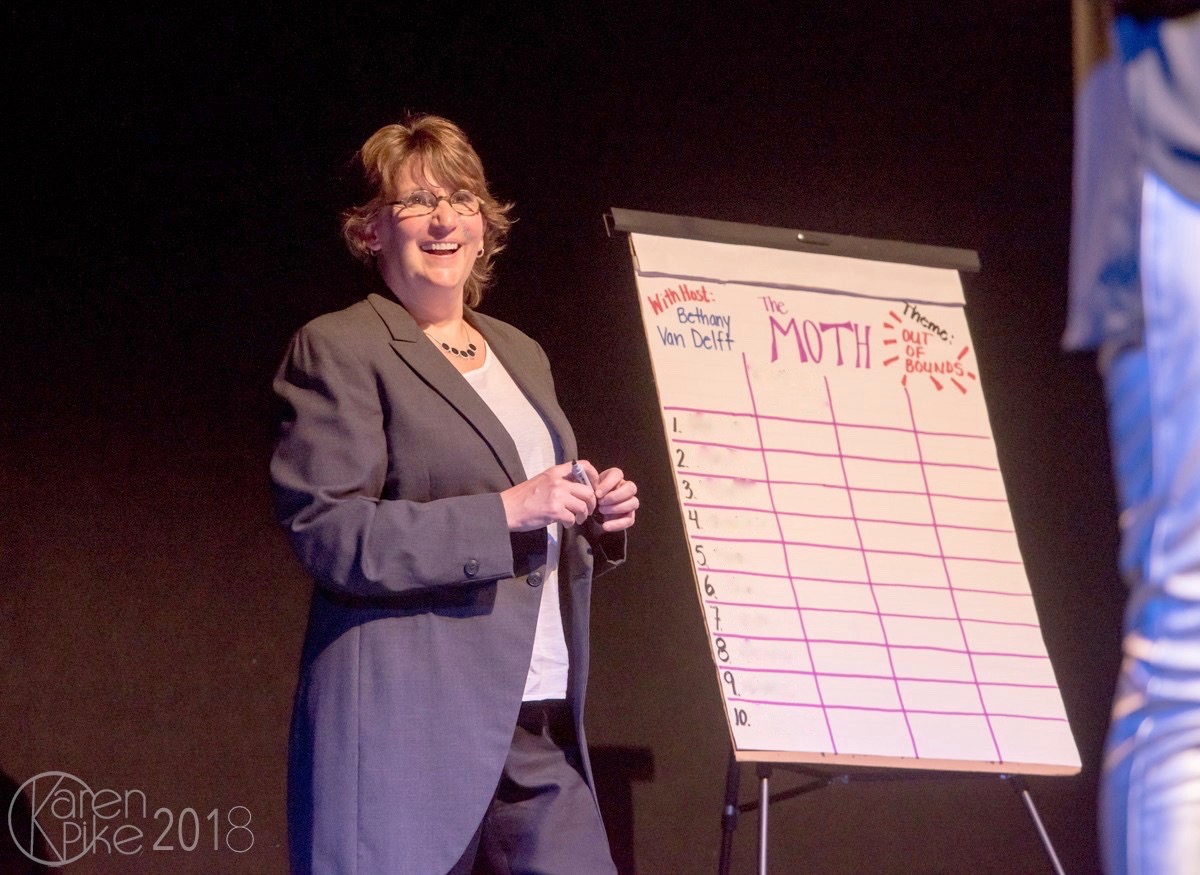 Everyone has interesting things happen to them - at least once in a while - but not everyone knows how to tell a good story about their experiences. Susanne Schmidt is someone who does. She's a storyteller and regional producer of The Moth, which puts on storytelling events across the country. Part of Schmidt's job is coaching ordinary people to become extraordinary storytellers. That means what to include, and maybe even more importantly, what to leave out.
She shared the finer points of storytelling with Vermont Edition.
Storyteller Sue Schmidt Finds Comedy in Life's Adventures
Chelsea Edgar, Seven Days
WCSH Sound Bite about SoundBites...
Sound Bites is bringing stories from some incredibly engaging storytellers to Frontier in Brunswick. The program is designed by people from Frontier, Donna Galluzzo from the Salt Institute for Documentary Studies at MECA and Michael Sargent from the storytelling series called The Corner. It unites storytellers from around the country, people who've been on programs like The Moth, people from Maine and uncovered documentary footage from the Salt archives.
Vermont Public Radio - Focus On The Arts
Susanne Schmidt started telling stories over a year ago, during a comedy fundraiser for the lunch ladies of Vermont. "The day before the event, I was having a really hard time deciding what to do for my set, when I realized I had a story about my lunch lady when I was growing up," Schmidt says. "So I threw out my comedy set, got up in front of 200 people and told my story." From that point forward, Schmidt hasn't stopped connecting with people through her storytelling.